About DIVIJ BESPOKE
Read Our Story
Come visit us at our original showroom in Orange County, California where we do bespoke Fittings for Suits, Sport Coats, Shirts, and Tuxedos.
DIVIJ BESPOKE MAKES THE SUIT
THAT MAKES THE MAN
Divij Bespoke was founded on a rich tradition of producing classic tailored clothing. In 1962, when the eldest generation of Hemrajani brothers opened their custom tailoring shop in the bustling port city of Hong Kong, they started not only a business, but also a family tradition. For generations, international traveler sand local business people have relied on Hong Kong's tailors to get custom clothes made.

Tailored clothing relies on milli metric differences — the width of a shoulder, the pitch of a sleeve, and the balance of a jacket as it hangs from back to front. Getting something custom made means not only getting something that fits properly, but also in proportions that flatter your body. In this regard, the Divij Bespoke family's steadfast commitment to value and quality has allowed them to deliver the best possible garments. 
Our loyal customers
are at the core of our work  
Whether in person or online, we always want to leave the best impression. We our proud to offer precise tailoring, quality craftsmanship, excellent service, fine fabrics, and most importantly, a great value for an impeccable wardrobe.
Our Process
There was a time when nearly all clothing was bespoke. Before 1849, when the ready-to-wear suit was introduced in the United States, men got their clothes from their tailor if they could afford one, or had them made in the home. Over time, as the process of making suits became industrialized, the factory's pattern maker replaced the role of a tailor. A pattern maker creates new fits and styles based on statistical averages of the human body. However, when garments are made to fit a group, they fit no one in particular.   

Ready-to-wear can work well enough for casual garments, but milli metric details define tailored clothing: the asymmetric slope of a shoulder line, how the sleeves are pitched, and how the jacket hangs from back to front. If things are off by just small degrees, a suit or sport coat's silhouette is ruined.  At Divij Bespoke, we bring tailoring back to its original process of making a garment designed to fit just one individual. The process takes place over a series of meetings. 
The Showroom Experience
If you'd like to come visit our retail locations, we currently have two storefront showrooms. One is in Costa Mesa, California, and the other is our original shop in Hong Kong. When you visit our showrooms, you receive a hands-on experience. Flip through our look books then feel the quality of our fabrics for yourself. We'd love for you to stop by if you're in the area!
The Construction
We make sure every one of our suits is built to outfit a man with all the right features. The intricate construction of the silhouette allows the suit to be slimming but extremely comfortable. That initial structure is enhanced by well-placed pockets inside and out, full canvas framing, light shoulder padding made from German horsehair, and hand-picked stitched edging on the lapel and pockets. With all of these sartorial details, you'll be one heck of an elegant man.
The Silhouette
Meets The Fit
A suit needs to capture a man in his best light- tall, slim, and suave. To create this ideal image, our silhouettes are designed with a careful eye to find that blissful balance between comfort and craftsmanship for each body.

With decades of suit making under our belt, we have established the finest method of finding the perfect fit. The construction of our suits include intricate measurements blended with thoughtful details to give shape and purpose to each stitch. No other look will suit you better.
The Canvas
Constructed from Italian Cotton and German Horsehair, our light-weight, full canvas molds to your figure and frames it to show off your best body assets.
Shoulder Selections
Keeping with the trend of creating a suit just for you, we offer three different shoulder styles.
The Classic Shoulder
The name says it all. This shoulder style is belongs to every generation, providing a timeless shoulder shape that looks good on everyone.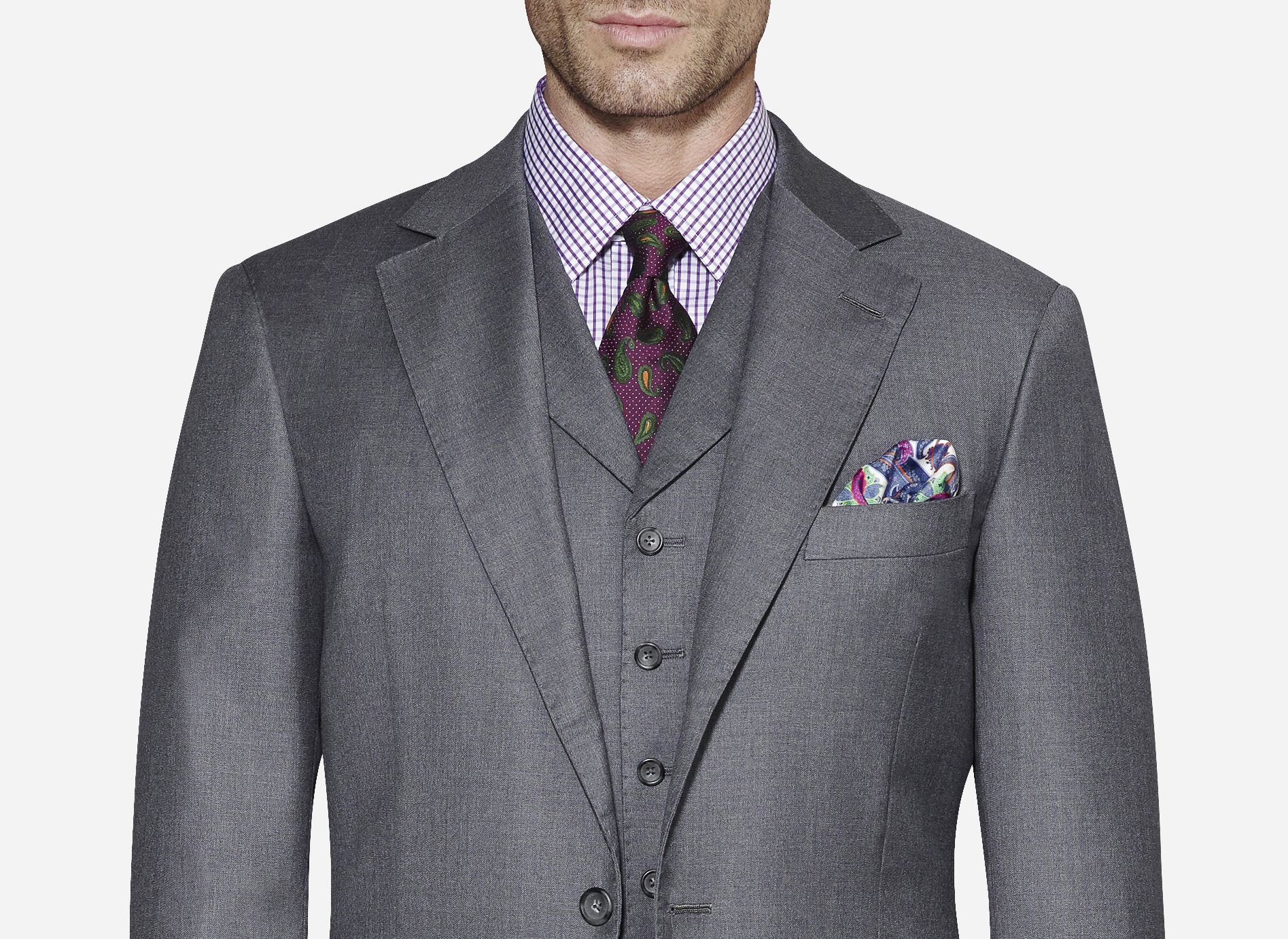 The Natural Shoulder
Forming to the natural curve of your shoulder, this style creates a slimmer silhouette. We both know you're already one fit chap, but there's no harm in wearing a suit that highlights your attractive build.